There's been no voting this time around, mainly because there's one particular mass market/pop-culture object that we really want to address. Namely, Disney's Marvel Heroes Shirts for Teen Girls.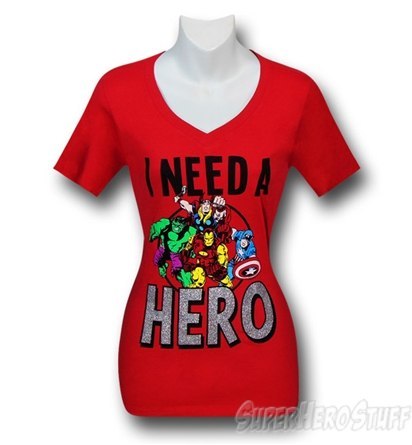 Yes, it says "I NEED A HERO"
Sexist in it's own right, and sexist when compared to the Teen Boys shirt (which says "Be A Hero").
Really, this shirt is sexist in so many ways.
- There's the erasure of the female Avengers (Black Widow, the Wasp) and other female Super Heroes (like half of the X-Men, which is why they were my favorite superhero teams as a child).
- Then there's the absolute horrible messaging. Boys can be heroes, but girls can't. We just have to sit around waiting to be saved. Which just plays into all the standard patriarchy gender roles especially as they apply to stories/literature; girls are trophies for active males, they aren't active in their own right.
And women and girls are just supposed to pay money for these messages?
Of course they still have this other sexist shirt...
Too bad it's not a picture of Black Widow.
And please leave suggestions for topics for future posts in the Babe, is this Sexist? Series.
You can do so by leaving messages here or in the masterpost.